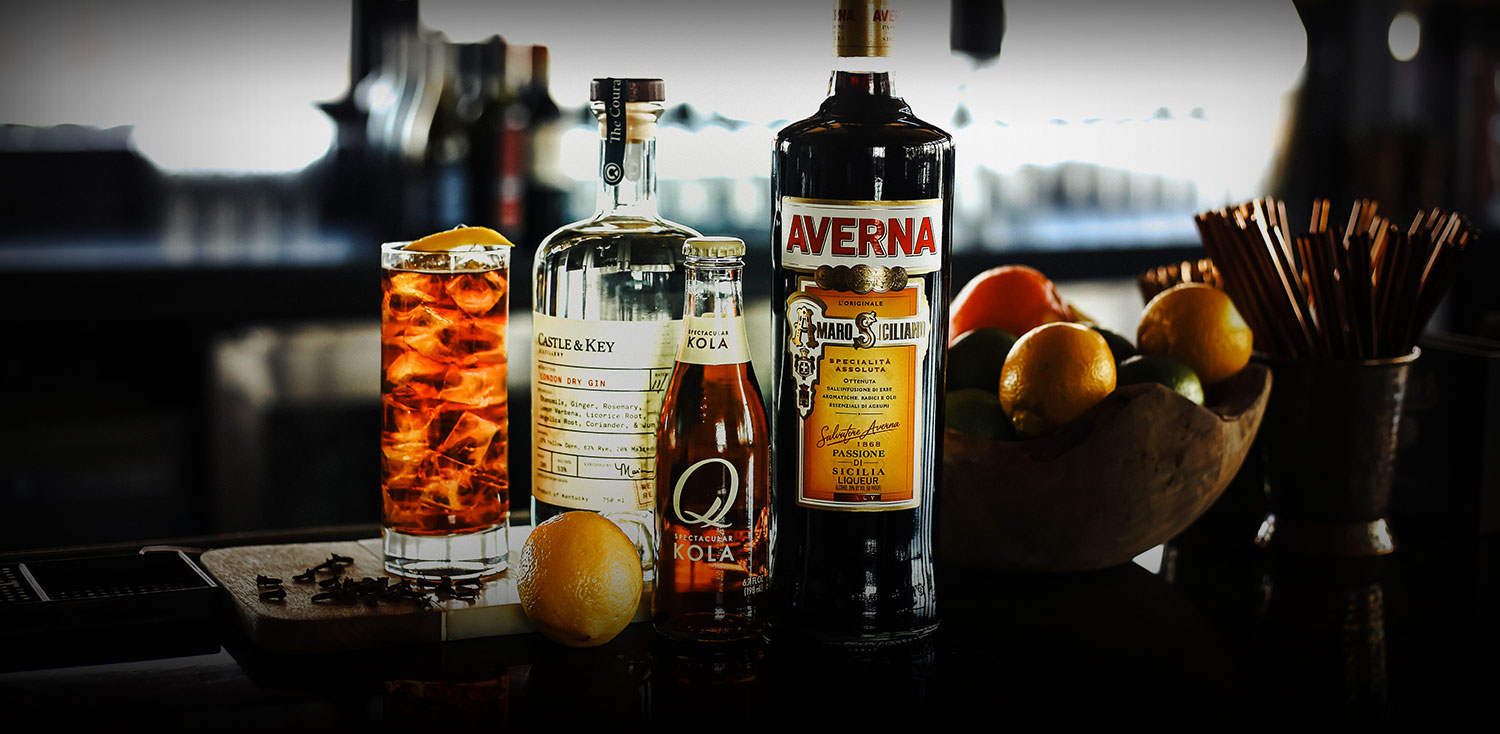 Menus
Bars in Downtown Chattanooga

Taste the Spirit of Tennessee
Under the direction of Chef Joe Madzia, our menus showcase the freshest seasonal ingredients among other bars in Chattanooga. Expect small plates bursting with Appalachian flavor paired with the highest quality libations, like artful cocktails featuring Tennessee's signature spirit.
Brunch
Brunch is served Saturday and Sunday from 11 am - 4 pm.
BOURBON MARY
bourbon
bloody mix
accompaniments
BLOODY MARY
vodka
bloody mix
accompaniments
MIMOSA
champagne
fresh orange
Specialty Cocktails
BARREL-AGED OLD FASHIONED
edwin single barrel george dickel 9 yr
demerara syrup
bitters
aged for seven days
LIFTED LORAX
noble oak double-oaked bourbon
lairds apple brandy
amaro
hearth & pantry honey apple butter
lemon
draft lager
ATOM EVE
tanqueray gin
creme de mure
yellow chartreuse
fresh lime
GW PUNCH
old forester rye
dry curacao
pineapple
simple
lemon
Wine
CHARLES ARMAND BRUT
NV - france
OYSTER BAY SAUVIGNON BLANC
2020- marlborough, new zealand
WILLIAM HILL CHARDONNAY
2019 - california
DRAGONSTONE REISLING
2020 - rheingau, germany
THE PATH PINOT NOIR
2019 - california
JUGGERNAUT CABERNET SAUVIGNON
2019 - california
MY STORY BOURBON BARREL AGED MALBEC
2020 - paso robles, california
Beer
HUTTON & SMITH ROCKTOBERFEST
HUTTON & SMITH PROMENADE IPA
WANDERLINGER "Blackbeary Hug" SOUR
BLACKBERRY FARMS CLASSIC SAISON
Flight
THREE CHORD
tennessee straight
strange collaboration
small batch blended
EDWIN SINGLE BARREL
davidson reserve rye
old dominick hulling station bourbon
george dickel 15yr
OLD FORESTER
1870 original batch
1897 bottled-in-bond
1910 old fine whiskey
1920 prohibition style
NEW RIFF
bottled-in-bond bourbon
bottled-in-bond rye
single barrel bourbon
single barrel rye
The Lockers
LOUIS XIII by REMY MARTIN
Dalmore Cigar Malt Reserve
1.5 oz $38.00
2 oz $46.00
3 oz $69.00
Don Fulano Imperial Extra Anejo
1.5 oz $40.00
2 oz $48.00
3 oz $72.00
Diplomatico Single Vintage
Jefferson's Ocean Voyage 28
Rabbit Hole Mizunara Founder's Collection Louisville, Kentucky
Ardbeg Arrrrrrrdbeg Port Ellen, Scotland
El Dorado 21 yr Demerara, Guyana
Thomas H. Handy Frankfurt, Kentucky
William Larue Weller Frankfurt, Kentucky
Ron Centenario 25yr Costa Rica
Johnnie Walker Blue Label Ayrshire, Scotland
Johnnie Walker Blue Label Ayrshire, Scotland
Macallan 18 Craigellachie, Scotland
Black Maple Hill Rye Joseph, Oregon
Blue Run 13yr Bardstown, Kentucky
Blue Run 14yr Bardstown, Kentucky
Blackened X Willet Bardstown, Kentucky
High West High Country Park City, Utah
Russel's Reserve 2003 Lawrenceburg, Kentucky
Sweetens Cove 2021 Edition Tennessee & Kentucky
Wild Turkey Cornerstone Lawrenceburg, Kentucky
Very Olde St. Nick 12yr Nelson County, Kentucky
WhistlePig 18yr Shoreham, Vermont
WhistlePig Spirit of Mauve Shoreham, Vermont
WhistlePig Samurai Scientist Shoreham, Vermont
WhistlePig Magellan's Atlantic Shoreham, Vermount
George Remus Volstead Reserve 14yr Cask Strength Bourbon Lawrenceburg, Indiana
Joseph Magnus Triple Cask Bourbon Washington, D.C.
Midleton Very Rare Barry Crocket Legacy Cork, Ireland
Sweeten's Cove 13yr Tennessee & Kentucky
Laphroaig 25yr Islay, Scotland
Dalmore King Alexander III Alness, Scotland
Glenmorangie Signet Tain, Scotland
Glenmorangie Pride 1974 Tain, Scotland
Balvenie Tun 1509 Speyside, Scotland
Mars Shinshu Komagatake Nagato, Japan
Akashi Sherry Eigashima, Japan
Hakushu 12yr Chubu, Japan
Tennessee Whiskey
Nelson Brother's Reserve Bourbon
Nelson Brother's Classic Bourbon
1.5 oz $12.00
2 oz $15.00
3 oz $22.00
Tennessee Legend Small Batch
Hulling Station Edwin Single Barrel
George Dickel Edwin Single Barrel 9 yr
Davidson Reserve Edwin Single Barrel Whiskey
Company Distilling Whiskey
Chattanooga Whiskey 95 Scotch Cask
Chattanooga Whiskey Bottled-in-Bond
George Dickel Edwin Barrel 15 yr
George Dickel Bottled-In-Bond
Kentucky Whiskey
Noble Oak Double Oak Bourbon
Michter's Small Batch Bourbon
Four Roses Barrel Strength 2021
Davies County French Oak Finished Bourbon
Elijah Craig Barrel Proof
Maker's Mark Cask Strength
Michter's American Whiskey Small Batch
Russell's Reserve Single Barrel
Wild Turkey Kentucky Spirit
Woodford Reserve Double Oak
Other American
Manifest Distilling Whiskey Project 4
Jefferson's Ocean Voyage 24
High West American Prairie
Smooth Ambler Contradiction
Rye Whiskey
New Riff Single Barrel Rye
New Riff Bottled-in-Bond Rye
Jack Daniels Single Barrel Rye
George Dickel X Leopold Bros Collaboration Rye
Davidson Reserve Edwin Single Barrel Rye
Catoctin Creek Roundstone Rye
Castle & Key Restoration Rye
Michter's Single Barrel Rye
Old Portrero Straight Rye
Rabbit Hole Boxergrail Rye
Russell's Reserve 6yr Rye
Scotch Whiskey
Glenlivet Founder Reserve
Glenrothes Whisky Maker's Cut
Asian Whiskey
Nikka Taketsuru Pure Malt
Paul John Indian Single Malt
Tequila
Codigo Anejo Honky Tonk Time Machine
Soft Drinks
Coca-Cola / Diet Coke / Sprite / Ginger Ale
Brunch
Brunch is served Saturday and Sunday from 11 am - 4 pm.
CHARCUTERIE
coppa
salami
griffin
tomato basil
house pickled vegetables
seasoned lavash
FRESH FRUIT BOWL
seasonal melon and berries
house granola
honey
lime
mint
BISCUITS & GRAVY
house made biscuit
sausage gravy
YOGURT PARFAIT
vanilla yogurt
mixed berries
house granols
PEACH CREPES
spiced peach compote
mascarpone whipped filling
candied pecans
Snacks
Kitchen is open until 10:30pm Monday through Saturday, and 8:30pm Sundays.
SIDEWINDER FRIES
house cut potatoes
fresh thyme
house truffle zest season sea salt
DEVIL OF AN EGG
smoked hard boiled eggs
gherkin red pepper remoulade
HEIRLOOM TOMATO & BURRATA
fresh basil
whiskey balsamic glaze
grilled baguette
Shareables
ROASTED RED PEPPER HUMMUS
veggies
naan
pistachio crumb
extra virgin olive oil
harissa
CHARCUTERIE
coppa
salami
griffin
tomato basil
house pickled vegetables
seasoned lavash
BRUSELS SPROUTS
honeycrisp apples
sundried cranberries
pomegranate molasses
allepo chili
orange zest
SMOKED CHICKEN WINGS
signature bourbon dry rub
buttermilk dressing
MINI BURGERS
grilled beef patties
brioche bun
pickled onion
jalapeños
gruyére
yuzu miso aioli
Late Night Bites
PECAN BACON MAPLE DOUGHNUTS
(3) large yeast doughnuts
vanilla maple icing
bacon
candied pecans
DRUNKEN HO-HO
chattanooga whiskey caramel
cointreau buttercream
orange blossom ganache
orange curd
WHISKEY MAPLE TART
blueberry compote
house toasted granola
whipped cream
"There is no bad whiskey. There are only some whiskeys that aren't as good as others."
-Raymond Chandler