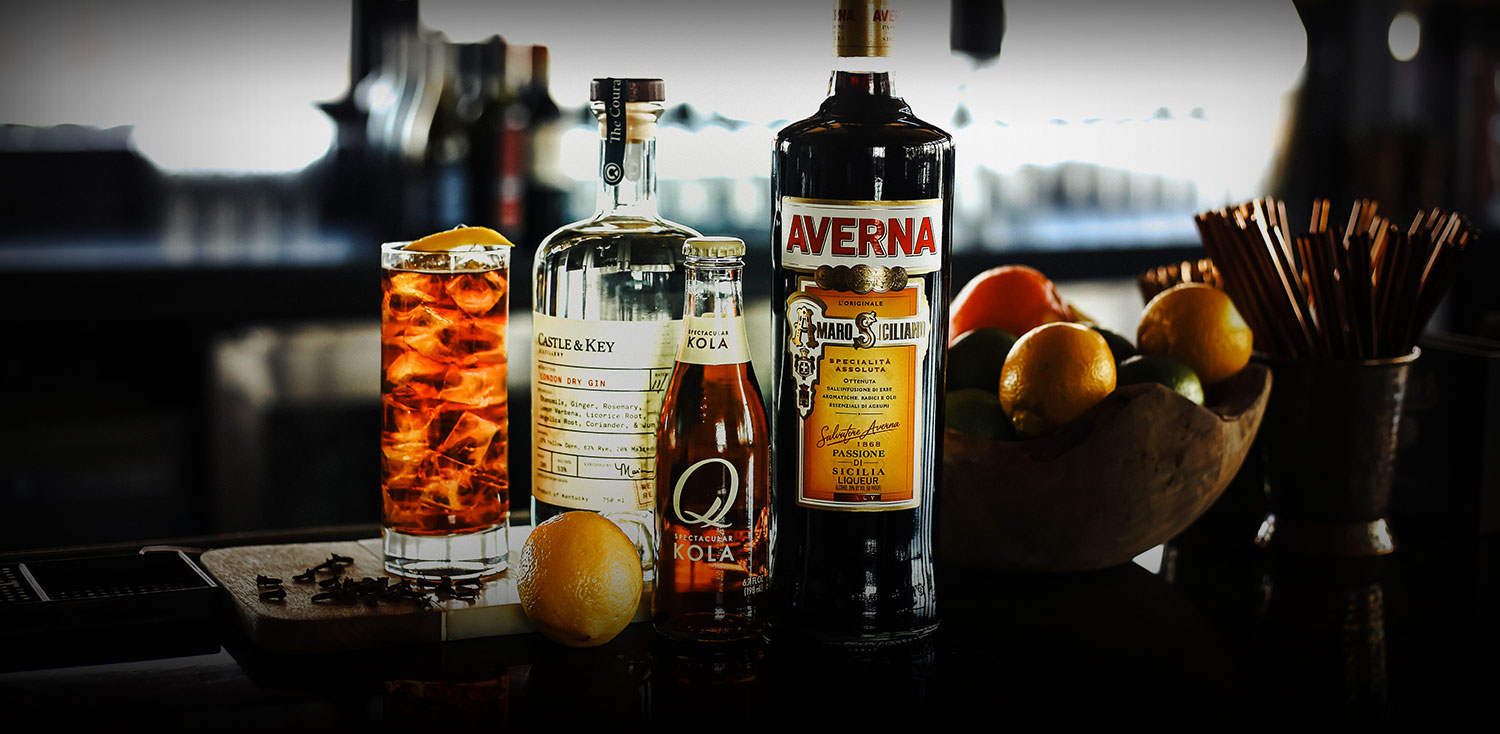 Menus
Bars in Downtown Chattanooga

Taste the Spirit of Tennessee
Under the direction of Chef Khaled Albanna, our menus showcase the freshest seasonal ingredients among other bars in Chattanooga. Expect small plates bursting with Appalachian flavor paired with the highest quality libations, like artful cocktails featuring Tennessee's signature spirit.
Dinner
French Press Coffee
Goodman Coffee
Charcuterie
Assorted RegionalMeats & Cheeses
House-made Jams &
Pickles
Goat Cheese & Smoked Tomato Dip
Tarragon Oil, Crispy Pita Bread
Pomme Frittes (v)
House Cut Frites
Truffle oil
Parmesan
Malt Aiolo Dip
Wings
Sweet Habanero Glaze
Housemade Sourdough
Marinated Olives
Cultured Butter
Lamb Ribs*
Freedom Run Farm's Smoked
Ribs
Parsnip BBQ
Mint
Hot Fried Chicken
Joyce Farms Chicken Breast House Pickles, Mayo
Burger & Fries*
Mishima Wagyu Aged Cheddar, Bacon Jam, House Pickles Lettuce, Red Onions, Mayo
Beignets
Beingets Honey Powdered Sugar
Sticky Toffee Pudding
Salted Caramel Coffee Ice Cream
Spring Cocktails
MELON BALLIN'
honeysuckle vodka. honeydew
italian liqueur. lemon
served up with a melon sphere
CUPID'S TRICK
white wine aperitif, japanese gin
grapefruit liqueur. lemon. topo chico
served on a spear cube
20TH CENTURY
coconut gin. banana. chocolate. lemon
served down with a lemon twist
SORRENTO
reposado tequila. mezcal
italian orange liqueur
triple honey syrup. lime. pineapple
served on the rocks with black salt
CHERRY CLUB
rums, house cherry liqueur
coconut. lemon. bitters
Classic Cocktails
"BOULEVARDIER"
laird's apple brandy, italian liqueurs
rich banana liqueur, bitters
GOLD RUSH
dickel 'edwin single barrel' whiskey
lemon. honey. bitters
BARREL-AGED MAPLE OLD FASHIONED

dickel 'edwin single barrel' whiskey
maple. demerara. bitters (aged 7+ days)
BLACK MANHATTAN
woodford 'edwin single barrel' rye
dickel 'edwin single barrel' whiskey
house amaro blend. bitters
House Whiskey
CHATTANOOGA F.R.H.
fig-infused chattanooga 111 & chattanooga rye italian liqueurs. honey (served on a sphere cube)
REAL BASEBALL
peanut butter-infused belle meade bourbon italian liqueur. chocolate mole bitters (served on a ball cube with house-made brittle)
BANANA CLUB
banana-infused irish whiskey
(served on the rocks)
Flight
WELLER
weller special reserve. weller 12yr weller 107 'edwin single barrel'
MICHTER'S
small batch bourbon. american whiskey single barrel rye
SMOKEWAGON
straight bourbon. small batch
uncut & unfiltered
Wine
Marquis de la Tour Blanc de Blancs Brut
NV - France
Mezzacorona Sparkling Rosé Extra Brut
NV - Trentino, Italy
Redentore Pinot Grigio
2017 - Veneto, Italy
Jax Y3 Sauvignon Blanc
2019 - Napa Valley, California
Fleur de Mer Still Rosé
2019 - Cotes du Provence, France
Head High Chardonnay
2019 - Sonoma, California
Vietti Moscato
2019 - Piedmont, Italy
Planet Oregon Pinot Noir
2018 - Willamette Valley, Oregon
Testamento Malbec
2016 - Mendoza, Argentina
Bear Flag Cabernet Sauvignon
2017 - Sonoma, California
Draft Beer
Five Witts 'Sunblaze' IPA
Wise Acre 'Tiny Bomb' Pilsner
Blackberry Farms Classic Saison
Hutton & Smith 'Igneous' IPA
Dogfishhead '60 minute' IPA (bottle)
Old Rasputin Stout (bottle)
Old Rasputin Stout XII BA Stout
GypsyCircus 'Raindancer' Cider (can)
The Lockers
Wild Turkey 17yr Bottled-In-Bond Lawrenceburg, Kentucky
Wild Turkey Cornerstone Lawrenceburg, Kentucky
Wild Turkey Revival Lawrenceburg, Kentucky
Angel's Envy Cellar Collection Louisville, Kentucky
Jefferson's Chateau Pichon Baron Louisville, Kentucky
Jefferson's Ocean Cask Louisville, Kentucky
Pinhook 10yr Bourbon Millville, Kentucky
George T. Stagg Antique Collection, 2019 Frankfort, Kentucky
Cream of Kentucky Crestwood, Kentucky
Blanton's Gold Label Frankfort, Kentucky
Very Olde St. Nick 12yr Nelson County, Kentucky
Old Fashioned Copper 25yr ('94) Frankfort, Kentucky
Mister Sam Louisville, Kentucky
Elijah Craig 18yr Louisville, Kentucky
Old Fitzgerald 15yr Louisville, Kentucky
Old Forester 150th Anniversary Louisville, Kentucky
Baker's 13yr Clermont, Kentucky
Parker's Heritage 10yr Cask Louisville, Kentucky
Michter's 10yr Bourbon Louisville, Kentucky
WhistlePig 18yr Shoreham, Vermont
WhistlePig Spirit of Mauve Shoreham, Vermont
WhistlePig Samurai Scientist Shoreham, Vermont
WhistlePig Magellan's Atlantic Shoreham, Vermount
Roaming Man Cask Strength Rye Gatlinburg, Tennessee
Kenktucky Owl 10yr Rye Bardstown, Kentucky
Blaum Bros. Oldfangled Knotter Bourbon Galena, Illinois
George Remus Volstead Reserve 14yr Cask Strength Bourbon Lawrenceburg, Indiana
Joseph Magnus Cigar Blend Bourbon Washington, D.C.
Midleton Very Rare Barry Crocket Legacy Cork, Ireland
Jameson 18yr Cork, Ireland
Yellow Spot 12yr Cork, Ireland
Red Breast Lustau Edition Cork, Ireland
Sweeten's Cove 13yr Tennessee & Kentucky
Macallan 18yr Triple Cask Moray, Scotland
Glenlivet Enigma Ballindalloch, Scotland
Glenlivet 18yr Ballindalloch, Scotland
Laphroaig 25yr Islay, Scotland
Dalmore King Alexander III Alness, Scotland
Glenmorangie Signet Tain, Scotland
Glenmorangie Pride 1974 Tain, Scotland
Balvenie Tun 1509 Speyside, Scotland
Balvenie 21yr Port Finish Dufftown, Scotland
Kurayoshi 18yr Mt. Daisen, Japan
Mars Shinshu Komagatake Nagato, Japan
Akashi Sherry Eigashima, Japan
Matsui Sakura Cask Mt. Daisen, Japan
Hibiki Harmony Osaka, Japan
Yamazaki 12yr Osaka, Japan
Hakushu 12yr Chubu, Japan
Kentucky Whiskey
E.H. Taylor Single Barrel
Elijah Craig Barrel Proof
Four Roses Limited Edition
Four Roses Small Batch Select
Jefferson's Chef Collaboration
Johnny Drum Private Stock
Pinhook Cask Strength Bourbon
Rabbit Hole Dareringer Sherry
Russell's Reserve Single Barrel
Weller 107 Edwin Single Barrel
Wild Turkey Kentucky Spirit
Wilderness Trail Bottled-In-Bond
Wilderness Trail Single Barrel
Tennessee Whiskey
Belle Meade Cask Strength Reserve
George Dickel Edwin Barrel Select
George Dickel Bottled-In-Bond
H Clark Small Batch Bottled
Old Dominick Huling Station
Old Dominick Single Barrel
Uncle Nearest 1884 Premium
Uncle Nearest 1856 Small Batch
Other American
High West American Prairie
Michter's American Small Batch
Smooth Ambler Contradiction
Rye Whiskey
Knob Creek Cask Strength Rye
Knob Creek Twice Barreled
Michter's Single Barrel Rye
Michter's 10yr Single Barrel Rye
Old Portrero Straight Rye
Pinhook Cask Strength Rye
Rabbit Hole Boxergrail Rye
Rossville Cask Strength Rye
Russell's Reserve Single Barrel
Wild Turkey Rare Breed Rye
Woodford 'Edwin Single Barrel'
Scotch Whiskey
Balvenie 14yr Carribbean Cask
Glenlivet 12yr Double Oak
Glenrothes Whisky Maker's Cut
Irish Whiskey
Red Breast Lustau Edition
Asian Whiskey
Nikka Taketsuru Pure Malt
Paul John Indian Single Malt
Brandy
Copper & Kings Butchertown
Rum
Appleton Estate Reserve Blend
Tequila
Tears of Llorona Extra Añejo
Gin
Pickering's Navy Strength
Soft Drinks
Coca-Cola / Diet Coke / Sprite / Ginger Ale
"There is no bad whiskey. There are only some whiskeys that aren't as good as others."
-Raymond Chandler